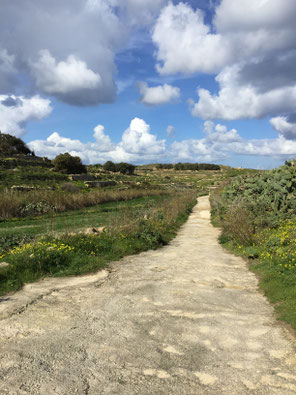 January was tough.
Stress at work, emotional imbalance, pain everywhere, dizziness, exhaustion. Usually I feel quite well in my body and with myself. I like yoga, breathing, walking, dancing, writing and good, vegetarian food. But somehow in this winter everything came together. Voices in my head started questioning my whole life, wanted to turn it upside down, leave everything and start something new in a different place. And at the same time, old fears and blockages came up that didn't allow me to think outside of the box I felt trapped in. I allowed the doubts and frustrations to overwhelm me and I put a lot of pressure on myself. The battle with myself made me feel heavy and tired. After weeks of grey, cold and rain, I was craving for sun and warmth. 
I had been in Amchara for a weekend in September 2016, and it had stayed in my mind. I knew that I was going to go back at some point. And slowly, it felt like if this point was approaching now. Getting some distance from everything. Detoxing the body with less and living food. Food had actually become one of my major pleasures over the past weeks to overcome feeling bad in my body, notably sweets and cakes, which I did not even savour consciously, but just swallowed. I swallowed everything, emotions and frustrations, just to be able to go on in the old way. I didn't feel anymore that I have a choice how to live. So, I wanted to get out and at the same time I was afraid to get on a  flight due to strong headaches and back pain every day and a sudden dizziness coming up regularly, making me feel very insecure. I had totally lost confidence in my body. 
Still, I realised that I needed to go for it. Booked the flights to Malta and an apartment for eight days in Amchara. The Health Retreat Center is located on the small island of Gozo, north-west of Malta: www.amchara.com.
Gozo is a quite remote place in itself, only reachable by ferry. It has about 30,000 inhabitants and is very rural. At this time of the year, it is green, which I loved a lot! A friendly Amchara driver picked me up at the airport in Malta and brought me to the ferry. On the other side in Gozo, another driver was waiting to bring me to Amchara. I remembered them both from last time and it felt like coming to a well-known place.
I got a large apartment on the first floor, with front view to the pool area, morning sun coming through my window, and back view to a large open landscape with evening sun. 
The Amchara buildings are very beautifully arranged in a circle around the large pool with palm trees. I did not use the pool though, given that the water is too cold at this time of the year. 
On my arrival evening, I was welcomed in the dining room by very friendly staff and I learned that we would be only three to four guests in total during my week, which I liked, as I really wanted to go into calmness. 
Amchara offers a detox fasting programme with green juices and superfood supplements, but those who do not want to fast or can't do it for health reasons get very delicious raw or cooked healthy meals three times a day. The Chef and her staff were really great and very attentive to special wishes of guests. We also received food demos every few days which were very interesting and inspiring, as the staff showed how to prepare raw meals in a creative, easy and very tasty manner. I was fascinated by the conscious and passionate way they dealt with food for the pleasure of creating something. 
I decided to try the fasting. I have never done it before and I was a bit afraid that I would become even weaker than I already felt. Food had been my security measure over the past weeks when I felt bad. It had given me comfort. And since I know, I carry with me a strong conviction that says "if you want to be strong, you need to eat". But I had also heard about the good health benefits of giving your whole digestive system a break by not eating and going beyond limitations in your mind that say you can't do it. And I felt safe in Amchara. Calm. Safe to try it. I received my Entry Health Screening with a certified therapist and we planned the week of my stay. 
A usual day for me at Amchara looked like this:
07h Wake-up, enjoy morning sun from my apartment, journaling
08h Yoga with a certified teacher
09h Green Juice and superfood supplements
09.30h Coffee Enema
10.30h Guided Walk with the other guests
12h Green Juice and superfood supplements
12.30h Health Talk
15h Green Juice and superfood supplements
16.30h Yoga and Meditation with a certified teacher
18h Vegetable Soup and superfood supplements
19h Sauna/steam bath or reading/writing in my apartment
21h Sleep
So the day was quite packed with programme, but I could have skipped everything and go my own way, if I preferred. But I actually liked the yoga very much and every day I felt my muscles becoming more relaxed and getting back to its old strength. Also the Health Talks were great. Every day one of the therapists gave a very comprehensive presentation on a specific aspect of health or nutrition, for example "gut health", "sugar", "thyroid", "benefits of fasting". Although I already knew a lot about nutrition and healthy lifestyle before, I actually learned a lot during the week. 
I also very much enjoyed the daily walks in the beautiful nature of the north west end of Gozo. After a five-minute walk from Amchara, I reached the sea and had a beautiful view down from the cliffs. 
I arrived on Thursday evening in Amchara and on Saturday morning I already felt like being there for a week. I had disconnected from the frustrations at home and the flow of days felt very natural. I wasn't hungry and enjoyed the juices and the chats with the other guests and the therapists. My various pains disappeared completely on the fourth day of fasting.
During the week, I received some wonderful massage treatments and two colon hydro therapies. I also started coffee enemas which interestingly, had an enormous effect on my well-being. A very important aspect of fasting is actually cleaning the gut. It is great to let the digestive system rest and support the detox with superfood supplements, but it is crucial to use the occasion to clean out what the body has stored in the bowels over years.
This is the time to let go! Physically and emotionally. I reflected a lot about my life and felt into its different parts. Very often, I was just sitting somewhere and breathing. Not doing anything. Just allowing to realise who I am right now. Where I fiercely hold on to things that actually don't serve me anymore. How fears and doubts kill every possibility to think into a new direction, to even consider changing key pillars in my life that I had built to protect myself. That fears actually make me react emotionally instead of acting in a sovereign way. I realised how I manipulate myself and others to feel save and acknowledged and where I make compromises with myself to please others. And that I actually know very well what is good for me and what not, but that I quickly adapt to a situation instead of sticking to my intuition, for example when it concerns food. 
A plant-based diet with no or little processed food, as it is proposed in Amchara, actually feels very right for me. It feels alive, vibrant. I realised that cravings for dairy, wheat and sugar are for me very often based on old habits and memories from childhood. I felt that I am now ready to let go such old habits and be very conscious about what is happening around me and how I want to feel in the midst of this. That I can be deeply rooted within myself and feel light and free, accepting that everything, yes, everything is possible. My gaze became clearer again. 
Now I could see the beauty around me and in my life. How things have served me. How I have created myself the situations I am in. I felt compassion for all my efforts and struggles to be "right". And now I was able to let go. I was available for life. Starting from a white piece of paper. Be myself and dare to think into a totally new direction for my years to come. No reason to hurry. Change is an experience. I felt calm, clear and alive. 
I realised that my life is all about consciousness. 
Breathing, feeling and shining consciousness from my higher Self within me through my body and mind out into the world. Radiating light just for the pleasure of experiencing it. 
Doing the things I do with consciousness and compassion. Being passionate about what I do. Allowing what comes up.
All the details of what, how, why, when are actually not really important. 
When leaving Amchara, I chose to enjoy life as never before. And I could feel a calm clarity that everything comes to me in absolute perfection if I only allow to trust myself. 
One week Amchara passed quickly. At the same time, it felt like forever, as if I had emerged into deep realms of self-experience on a white island of time. After six days of juice fasting, I broke the fasting with delicious raw food. But eating again was different. No craving, no quick swallowing. I chewed and savoured consciously. It felt really good to taste and eat, but I didn't have to. That was new. I also needed less sleep. After six hours, I woke up and felt refreshed, whereas before I could have slept ten hours every night. When I left the island, the pain in my body had disappeared.
But most importantly, I felt save within myself again. 
I loved this experience in Amchara. 
And maybe see you soon !
PS: For those of you who followed my previous blog articles in German:
The title of this blog is my free English translation of the title of the fourth book I read from the author Hanns-Josef Ortheil, as it fitted so well...